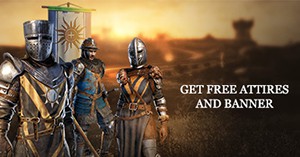 31200
Free Conqueror's Blade Year One Pack Keys
---
Claim your Conqueror's Blade Year One Pack Key for free! Each pack contains the brilliantly crafted Solar Order warlord skin, the galant Radiant Sun banner, and the Golden Sun Mercenary unit attire!
Instructions:
1. Scroll down and login into your free MMOHuts account.
2. Click the button to unlock your key
---
Don't miss out on this giveaways!