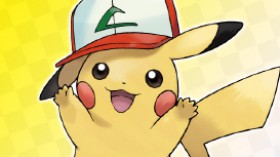 33860
Pokémon Sword and Shield: Ash's Pikachu Codes
---
Enter the Mystery Gift codes below into Pokémon Sword and Shield to receive different forms of Pikachu that are decked out in Ash's iconic headgear.

Codes:
P1KACHUGET
1CH00SEY0U
P1KAADVANCE
V0LTTACKLEP1KA
P1KABESTW1SH
KAL0SP1KA
ULTRAP1KA

Instructions:
1. Launch your Pokémon Sword or Pokémon Shield game.
2. Select Mystery Gift on the X menu.
3. Select Get a Mystery Gift.
4. Select Get with Code/Password to connect to the internet.
5. Enter your codes.
6. Watch as the gift arrives in your game. (Pokémon will appear in your party or your Pokémon Boxes.)
7. Be sure to save your game.
---
Don't miss out on this giveaways!